How is it remotely possible I haven't blogged about the friend zone before? I talk about it all the time.
I call it out all the time
. And yet, I've never given it its due time over here. Wellllll let me correct that immediately.
As I've mentioned about a billionty times, I work at a feminist organization. There, we do really fun things like have all staff meetings where we think about how our mission to empower girls is still relevant. In one such recent discussion, I brought up the fact that the friend zone exists, as a concept, is one reason why our work is important. I could tell that about half of the staff (typically the younger/more wired individuals) knew exactly what I was talking about, while everyone else was a bit confused. I was more than happy to break down the friend zone for everyone and tear it to shreds...so bear with me while I do the same here, and in much more excruciating detail.
What is the friend zone?
If one is to Google the term and arrive at the
Wikipedia page
, you'll find this definition:
In popular culture, the "friend zone" refers to a platonic relationship where one person wishes to enter into a romantic relationship, while the other does not. It is generally considered to be an undesirable situation by the lovelorn person.
But I think that this definition has been sterilized and ignores the largely misogynistic way that this term is applied. It almost always posits that some poor chap has been "friend zoned" by a girl he likes, and DAMN doesn't that suck for him! It's a favorite go-to of "
nice guys
" who just can't understand why in the world they can't score with a chick they know.
To that end, I at least appreciate that the
Urban Dictionary definition
is more honest about the term's application:
A state of being where a male inadvertently becomes a 'platonic friend' of an attractive female who he was trying to intitate a romantic relationship. Females have been rumored to arrive in the Friend Zone, but reports are unsubstanciated.
But I prefer, by far, the definition offered by Cat (
Tumblr user angels-and-angles
):
"Slut" is how we vilify a woman for exercising her right to say "yes". "Friendzone" is how we vilify a woman for exercising her right to say "no."
While the term
apparently has roots in an episode of Friends
, its widespread use and popularity is much more recent and has spawned numerous jokes and memes, like Friend Zone Fiona: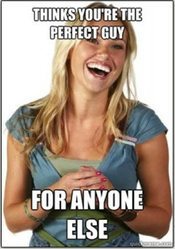 [Friend Zone Fiona meme with the caption: "Thinks you're the perfect guy for anyone else." How dare that bitch not be into you, amirite?]
Why does it suck?
I feel like this should be self-evident, but since this is a primer, I'll be specific.
1) It ignores the actual wishes of the woman
: As
Shattersnipe
said, "The Friend Zone is a fundamentally sexist construction based solely on the idea that women should be penalised for putting their own romantic happiness above that of an interested man." In other words, ladies, if a dude wants to be with you, you had better not have your own opinion about it.
Alisse Desrosiers
expands on this idea:
They ["nice guys"] use it as an excuse to ignore the fact that there are Actual Reasons behind [a woman's] decision to not pursue a relationship or have sex with this guy. You know, like not being physically attracted to them. Or not being able to connect with them.
So true. The whole "friend zone" meme is blind to fact that the guy in question might be extremely undesirable to the woman, for any number of reasons. It's like he shows up and likes her and that should be good enough. Women should just be thankful for male attention, dammit!
2) It displays an entitled attitude to a woman's body
: Boy, men sure get mad when we don't do what they want with our bodies, don't they? The entire concept of friend zoning has arisen because these so called nice guys can't score with a lady who has no interest in them. Like
Agusta Christensen
wrote, "The insidious problem with these 'nice guys' is that as much as they think they like or love the objects of their affection, they certainly don't respect these women. Instead, they stew bitterly in a sense of their own entitlement, waiting indignantly for something that was never promised to them."
3) It posits that the worst thing ever is to be "just" friends with a woman
: Like, honestly. Think about it...there was a whole term created for how shitty it supposedly is when a woman wants to "just" be your friend. The big message here is that a relationship with a woman is only worthwhile if there is at least the possibility of sex on the horizon--and it's somehow like the guy is "shortchanged" or something if he has a platonic friendship with her and doesn't eventually get laid. Yet again, women are reduced to their sexual desirability and function.
4)
It's a go to complaint of guys who are actually deeply misogynistic:
That's really the key issue with anyone who would even think about using the term friend zone to describe their relationship with a woman--they're not "nice." Take this common sentiment:
[Male Facebook status: "I will never understand women's logic, they friendzone and throw out the guys that care and never hurt them. But they keep the guys that hurt them and couldn't give two shit (sic) about there (sic) feelings aka the assholes. I am starting to question whether or not I should stop caring and become an asshole just so I can happily be with someone for once."]
You see, this guy is wrong because he claims to care about the girl's feelings, but yet he doesn't respect that she wants a platonic friendship with him. And the big misconception these self declared "nice guys" have is that the men who the women DO date are somehow all unfeeling, uncaring douchebags. Truth is, the outside observing "nice guy" has no idea what went on in that relationship! Perhaps the "asshole" man was actually someone who respected her and they broke up simply because it didn't work out. (I'm not saying that it's always this case--I'm just saying
the "nice guy" doesn't know
.) But no, some how the fact that the woman dates other men gets turned into a lesson that he should "stop caring" and "become an asshole."
Newsflash: You're already an asshole. How's what working out?
I mean honestly--When you belly ache about the friend zone and talk shit about women who only want a platonic relationship with you, what message are you putting out there in the world to every other woman? (HINT: You are putting out a big red flag and then also the messages listed in 1-4.) So just to make this abundantly clear...
to all the "nice guys" out there, it's not them: it's you!
So what can we do?
Pretty much what we can do for all the sexist BS we encounter on a daily basis: call it out! Talk about it. Don't let the friend zone be something that we laugh off and pretend isn't really disturbing. Trust me, no person who would use this term in completely seriousness is someone you would want to associate with.
Further than that, ask people to think critically about this stuff and if they don't get it, spell it out for them when you can. The friend zone might look like "not a big deal" on its surface, but when you dig down further, the full story is revealed. I mean, being pissy that you can't have a sexual relationship with a girl certainly isn't the worst thing men do, but it is all a part of a misogynistic culture which devalues female autonomy and positions women's bodies as public domain for any man who wants to claim them.
And that's bull.