This post is a part of my summer blockbuster series. I'll be tagging the whole thing as 2013 blockbusters. And if you want to check out last year's series, it's 2012 blockbusters. (BTW, I take a pretty loose interpretation of "blockbuster.")
So.
Star Trek into Darkness
. Let's talk about it. I'll try to keep this spoiler free as possible.
[Image text Spock and Kirk Start Trek into Darkness poster]
I'm not a Trekker. I don't think I've seen many of the previous movies and I've probably only seen a handful of episodes of any incarnation of the TV shows. But when the franchise was rebooted in 2009 (how was it that long ago?!?!?) I really enjoyed it. Unfortunately the second installment didn't hold up the same. Not only was the gender situation disappointing (as I will detail below) but I also from a "was this a good movie?" perspective. I just found it to be overall kind of meh. There wasn't much that pulled me in and I felt the story and action were a bit sloppy.
But enough of that, let's get to the meat of what this summer blockbuster series is about: the gender messages of the film.
I have respected how the Stark Trek franchise, since the start, has had a fairly diverse representation of people among the cast members. That fact remains true in this most recent incarnation. Women and people of color are all over Starship Enterprise performing various roles. However, disappointingly not many of them get actual speaking roles.
Let's be real: overall it's a white dude's film (sigh, what else is new?) The main action is created by and between white men and there are far more dudes running around the ship than women.
There are two female characters of note: Uhura (Zoe Saldana) and the new chick to this
[Image text: Uhura and Spock at the control board.]
reboot, Carol (Alice Eve.) These women are pretty cool--Uhura is a communications specialist who speaks Klingon (among other languages) which is a skill that's incredibly important to the crew. Dr. Carol Marcus has her PhD in weaponry, another vital skill set. These women are smart, professional, assertive, and good at what they do.
Because the potential of these two female character is so high, I was even more annoyed when they did so little with them. Uhura plays an important role in a few critical scenes, but overall she is reduced
helping
one of the main male characters including Spock (Zachary Quinto) and Kirk (Chris Pine.) Women are such good little helpers, aren't we!
Similarly Carol's skills are important in their understanding of a new weapon, but she is reduced to being the rebellious daughter of the evil Admiral Marcus (trope alert!) Her main character arch (if she's even important enough to actually be said to have one) revolves around this "daddy issues" -esque motif. Furthermore, when things get really serious, Carol is injured by the grand villain (Benedict Cumberbatch) and is unable to meaningfully contribute to the forward motion of the story at all.
One of the most annoying parts of the depiction of the only two significant female characters in the film is that they are both romantically tied to men. Uhura is outwardly in a relationship with Spock and there is a flirtatious (although not fully realized) relationship between Kirk and Carol. In what was by far the most infuriating scene of the film, Carol unnecessarily changes clothes while talking to Kirk. She insists that he turns around but ultimately he and us, as the audience, get to see Carol for about 5 seconds looking exactly like this: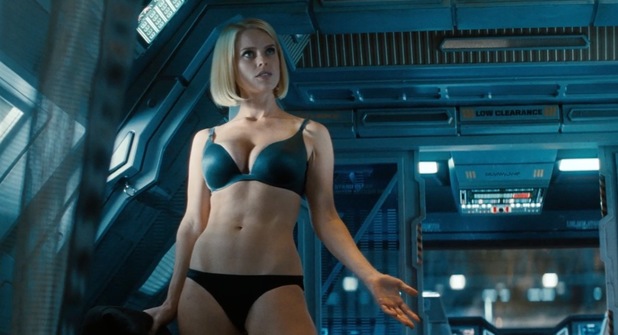 [Image text: Dr. Carol Marcus in only black bra and panties.]
Let me make this perfectly clear:
there was absolutely no point to that scene or to her partial nudity.
It did nothing to move the story forward or contribute to the plot. It was perhaps one of the most blatantly exploitative uses of a female body that I've seen in a while and obvious pandering to the whims of your average straight male Trekker. (The literal hooting and hollering of the dudebros next to me in the theater confirmed as much.) Heaven-fucking-forbid that we see Dr. Carol Marcus as a smart, capable member of the crew without being sexualized along the way. I suppose that people would make the case that this scene was thrown into build up some sexual tension and "will they-won't they" -ness between Carol and Kirk, but to that I will say two things:
1) There are ways to build sexual tension between characters without the audience ogling at a female character's body and
2) As mentioned, they never even played out the possible relationship between Kirk and Carol, so what was the point of this scene if not to pander to the male gaze?!
I literally rolled my eyes and scoffed out loud at that scene.
[Image text: Spock and Kirk talking.]
Perhaps the only interesting gender situation of the film was a message about emotions and feelings between Kirk and Spock. At one point Spock's life is in danger but he shows no emotion about it. Later, Uhura and Kirk question him and he explains how after seeing his planet destroyed and the extreme pain that came from that, he made the choice to cut himself off from feeling anything that horrible again.
Later, Kirk's life is the one now in danger and in a touching scene between Spock and Kirk, Spock breaks and we see him feel again, as he is terrified that his friend will die. This not only goes against what Spock had set out for himself (to no longer feel) but also the nature of the Vulcan people who are more logical than emotional. It was actually nice to see the story display two men who were so close that emotions ended up fully flowing between them.
That aside, I am still disappointed with how underutilized and exploited Uhura and Carol were. The media is chock full of empowering stories about men. It's the status quo. So even when they are not stereotypical (like the emotional exchange between Kirk and Spock) I want more
female
voices, characters, and stories represented.
It just wasn't good enough.
This blog has strict comment moderation intended to preserve a safe space.
Moderation is managed solely by the blog author.
As such, even comments made in good faith will be on a short delay, so please do not attempt to resubmit your comment if it does not immediately appear.
Discussion and thoughtful participation are encouraged, but abusive comments of any type will never be published. The blog author reserves the right to publish/delete any comments for any reason, at her sole discretion.