[Content note: abuse, violence, misogyny, spoilers for Breaking Bad's 9/15/13 episode, "Ozymandias"]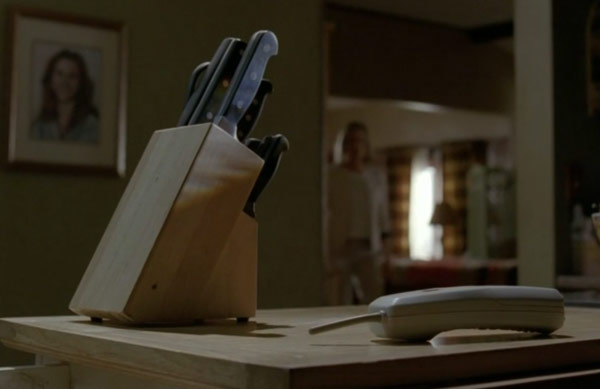 [Image text: the knife block and the phone from the White's house.]
So Breaking Bad...if you are caught up at all, I assume you found the most recent episode as intense and heavy as I did. In fact, I think my heart rate just now came back down to normal. Wow.
I'm writing this with an intended audience that is both familiar with the show and totally caught up, so again, I'd like emphasize the spoiler warning. Bail out now.
A year ago
I wrote about how I see the dynamic between Skyler and Walt to be largely symptomatic of a volatile, controlling, and abusive relationship. While the show has evolved since then and the situation between Walt and Skyler are not exactly the same now, I still see Skyler as ultimately a prisoner in Walt's control. She's smart and she tries to do the best she can to gain some agency and figure out how to survive, but it is only out of trying to adapt to the traumatic life that Walt has put her in. (That is not to say that she is a totally innocent party, but just that she never freely chose this life.)
Despite this, and Walt's undeniable decent into sheer evil, some viewers have unquestioningly stayed by his side. They've taken on the name and frequently tweet under the hashtag #TeamWalt.
The fact that anyone is still by this man's side utterly baffles and terrifies me.
I mean, I realize that in the beginning Walt was the downtrodden sad sack that you could identify with. He was fighting for his life, he was desperate that his cancer treatments not ruin his family, and he was a good man who turned to crime out of desperation. However since then, we've had 5 seasons of increasingly evil behavior. In the beginning when Walt was responsible for someone's death, we, as the audience could see a justified nature to it. But the longer we are on this journey with him, the more we see that he is acting selfishly and immorally, and with far less remorse.
The fact that people have stayed with Walt
and like him
through everything at this point really does disturb me.
Skyler, on the other hand, is virulently hated by certain segments of the population (segments which I think are prone to misogyny, let's be real.) Anna Gunn, who plays Skyler, recently wrote a piece for the New York Times. She said:
I was unprepared for the vitriolic response she[Skyler] inspired. Thousands of people have "liked" the Facebook page "I Hate Skyler White." Tens of thousands have "liked" a similar Facebook page with a name that cannot be printed here. When people started telling me about the "hate boards" for Skyler on the Web site for AMC, the network that broadcasts the show, I knew it was probably best not to look, but I wanted to understand what was happening.
A typical online post complained that Skyler was a "shrieking, hypocritical harpy" and didn't "deserve the great life she has."
"I have never hated a TV-show character as much as I hate her," one poster wrote. The consensus among the haters was clear: Skyler was a ball-and-chain, a drag, a shrew, an "annoying bitch wife."
This pattern of people hating Skyler and loving Walt, to me, is really about the misogyny that Gunn has detailed here. Instead of seeing Walt as the dangerous, rageful, egotistical abuser that he has become, certain fans view him as a bad ass...and because Skyler stands in opposition to this (rightfully so, in my opinion) she gets positioned as the nagging bitch killjoy. And perhaps people drank from the kool-aid that Walt drinks, telling himself that because he is "doing this for his family" she should mindlessly or happily go along with everything.
But Skyler won't and that is why I am her champion.
Nothing has better demonstrated the schism between Walt and Skyler than their knife fight last night. (Listen, if you haven't seen it yet, I warned you of spoilers!)
While Skyler was the one who initially pulled the knife, it was pretty clearly out of self preservation. She learns from Marie that moments before Hank had Walt in custody. And then Walt appears at their home in a strange truck demanding they all pack their things and leave NOW? She gets it out of him that Hank is dead so she knows that shit had hit the fan. She needs her kids to be safe, so if anyone has to leave, she's going to fight for it to be Walt and Walt alone. During their tussle with the knife, Walt is again the aggressor--so much so that Jr., who had literally just learned everything for the first time, can plainly see that his dad is a clear and present danger, so he jumps in to help his mom and calls the police on Walt, specifically.
Moments after this happened, I saw this great tweet:
Hey, #TeamWalt? You own this. No rushing off the bandwagon now. #BreakingBad
— Brian Stuart (@red3blog) September 16, 2013
During the
Talking Bad
, after the episode, Dean Norris (Hank) made a similar comment about if the Team Walt people still think he's a hero now. It got me thinking in more detail about this whole fucked up Team Walt thing. I was not surprised by anything that Walt did in this episode. (On the edge of my seat and heart racing? Yes.
Surprised?
No.) He is an angry, selfish person who has been increasingly violent and controlling. He might be using the "I'm doing it for my family" card as a justification to himself, but it is now astonishingly obvious that this is 100% about him. He wasn't just fighting with Skyler to take the knife from her. He was in a rage and was turning it back on her.
He can't claim it's for Skyler and Walt Jr. when he nearly just stabbed them.
Listen, I love Breaking Bad and I love that Vince Gilligan has created a show where he "
explore[s] a world where actions do have consequences
." What I don't love--and what scares me--is that
people either didn't pick up on the fact that we're not supposed to be rooting for Walt anymore or they know and choose to root for him anyway.
We having been watching his devolution. Like Gilligan said in that linked interview, "I like the idea that if you're really a rotten human being, you don't prosper for it. Not in the end. Day by day, you might, but there's some sort of comeuppance, some kind of karma, whatever you want to call it."
I do too. I gleefully await for Walt to get his.
Please see the commenting policy before replying to this post.